Recognizing the Importance of Continued Education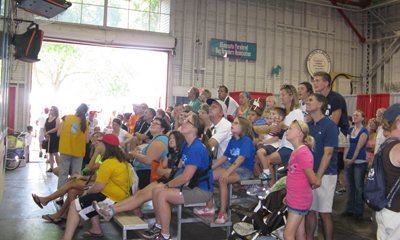 The Minnesota Veterinary Medical Foundation recognizes the importance of continued education and knowledge in the area of animal health. Whether through support of established programs and organizations, or by providing continuing education seminars and conferences, the MVMF is committed to doing our part in securing the veterinary medical profession in our great state.
The Miracle of Birth Center is an agricultural education exhibit at the Minnesota State Fair and the birthplace of more than 200 animals annually, including calves, lambs, ducklings, and piglets, during the fair's 12-day run. The Miracle of Birth Center is the fair's most popular free exhibit and serves as a gateway to the historic livestock area and is also home to the FFA Chapter House & Leadership Center.
The Nursery of Knowledge (NOK) provides visitors the opportunity to listen to speakers from various veterinary and public health organization, view educational videos, and learn more about the numerous volunteer organizations helping Minnesota animals every day. We invite all veterinarians and veterinary students to be available to answer questions and talk with visitors.
VetCamp
Provides funding for a public educational outreach program geared toward Minnesota high school students interested in veterinary medicine. Click here for more information on VetCamp.
MVMA Surgery Suite
Provides operational support for the surgery suite at the Minnesota State Fair to help educate the public on the importance of spaying and neutering their pets.
MN Agriculture in the Classroom
Provides support to bring educational materials with agricultural messages to schools through the state.
Minnesota Dog Bite Prevention Program
Provides funding for an important public health service that educates veterinarians and veterinary technicians, who will then teach children how to be safe around dogs.
MN Veterinary Historical Museum
Provides funding to help showcase and promote past veterinary achievements of the profession.
Minnesota Veterinary Medical Reserve Corps (MVMRC)
Provides funding to support the MVMRC and its training purposes for preparation to respond to an animal emergency in the State of Minnesota.
B.A.R.T. (Basic Animal Rescue Training)
Provides funding to empower first responders—firefighters, police, paramedics, and emergency medical technicians—with the training, knowledge, and equipment necessary to safely and effectively handle domestic animals encountered during emergency situations in order to help preserve human health, safety, and well being.
4-H
Provides funding to help empower Minnesota youth.
MN FFA Foundation
Provides support for FFA programs, including small animal career development event.
Professional Education
MN Veterinary Practice Manager Network
Provides funding to enable quality continuing education for Minnesota veterinary practice managers.