MVMF Mission Statement: The Mission of Minnesota Veterinary Medical Foundation is to provide scholarships and educational grants to benefit animal health and ensure the future of Veterinary Medicine.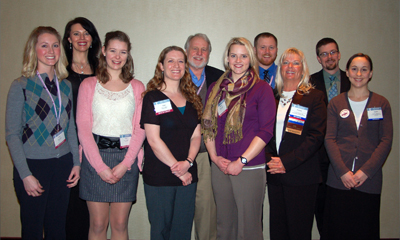 Donations
Tax-deductible donations are always welcomed. In addition to monetary donations, we also accept new and used office and veterinary equipment and in-kind donations.
Download this form if you want to fax or mail in your donation.
Use this form to donate via credit card. Or you may send a check to MVMF, 101 Bridgepoint Way #100, South St. Paul MN 55075.
Our staff will be happy to work with you in setting up automatic withdrawals from any checking or savings account. An easy and manageable way to provide continuous support for MVMF, withdrawals can be set up for any time period or frequency.
Remembering a client through the grieving process is vital to your continued relations with that client. The Minnesota Veterinary Medical Foundation has given considerable thought to helping you deal with client grief and has developed the Pet Memorial Gift Program to help you handle this challenge.
MVMF Endowment Gifts
A strong endowment ensures that there is an enduring source of funding for immediate and future needs. Endowments grow over time to create a legacy as they extend the impact of the donor's generosity beyond a lifetime.
The principal is invested and a portion of the fund's value is made available each year to support the purpose determined by the donor.
Endowments can be created with gifts of cash, securities, and other assets. They can be established through one-time gifts, estate gifts, and multiyear pledges. Although the minimum amount required to create an endowment fund or endowed scholarship is $25,000, larger amounts are welcome.
All planned giving donors become members of the MVMF Legacy Society.
To create an endowment fund:
Contact the Minnesota Veterinary Medical Foundation at info@mvmfcares.org or by calling 651-645-7533 to reach the development office, who will assist you and/or your professional advisor in creating a fund in accordance with your wishes.
MVMF will help you draft, complete, and sign a fund agreement outlining the gift's purpose.
Upon receipt of the gift, MVMF will establish the fund and distribute the amount yearly for your scholarship or designated purpose.
Click here to join the Legacy Society
Estate Planning
Continuing your legacy through a planned gift to MVMF is a wonderful way to honor the veterinary profession.
You can do that through the MVMF Legacy Society. Everyone who has donated through their will or estate plan is a member of the Legacy Society. If you wish, you may remain anonymous.
Click here to join the Legacy Society
There are many vehicles to maintain a lifetime of giving to MVMF-life insurance, annuities, or an outright gift from your estate. You may make your gift restricted or unrestricted, and create a fund for scholarships, animal rescue, Vet Camp or any other MVMF related activity. For more information, contact the MVM Foundation info@mvmfcares.org.
Click here for some helpful documents to help you in your decision:
Meet our Current Donors
We have many dedicated donors, sponsors, volunteers, and members of the veterinary community who support our mission of ensuring the future of veterinary medicine. We would like you to meet them and learn why they support the Minnesota Veterinary Medical Foundation. Click here for their donor stories.
Meet our Legacy Society Donors
MVMA Annual Meeting Dinner, in 2017 held on February 23–25 at the Hyatt Regency in Minneapolis, raises money for MVMF activities. Examples of items that have been donated in the past include sporting event tickets, travel vouchers, spa packages, hotel stays, hand-crafted items, artwork and wine.
The Minnesota Veterinary Medical Foundation hosts various fundraising activities throughout the year, including the Golf Classic, Shoot for the Future Clay Shoot, and the Silent Auction at the MVMA Annual Meeting, providing the perfect opportunity to network with professional peers, socialize with colleagues, and reconnect with old friends and college buddies. Attend or Sponsor an event!
The Minnesota Veterinary Medical Foundation is pleased to provide various volunteer opportunities for veterinary professionals, students, and others committed to the continued support of animal health and the veterinary profession.