Meet our Current Donors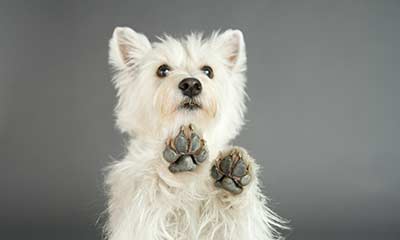 We have many dedicated donors, sponsors, volunteers, and members of the veterinary community who support our mission of ensuring the future of veterinary medicine. We would like you to meet them and learn why they support the Minnesota Veterinary Medical Foundation.
Dr. L. Kern and Jean Schwartz Food Production Scholarship established for MVMF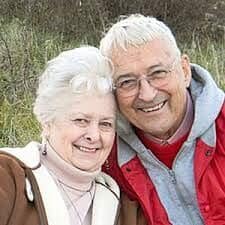 Dr. L. Kern and Jean Schwartz of announced that they will be donating a Food Production Scholarship in their estate to the MVMF for a junior or senior veterinary student.
Dr. Schwartz, a 1958 graduate of the University of Minnesota College of Veterinary Medicine, practiced in Worthington, Minnesota for many years before retiring. A native of Sleepy Eye, Minnesota, he remembers being interested in veterinary medicine in sixth grade "after my canary died."
During his career, Dr. Schwartz enjoyed working with the farmers rather than the managers of corporate farms. As he put it, "that wasn't the real thing."
The scholarship will be named the Dr. L. Kern and Jean Schwartz Food Production Scholarship. Funds from the sale of their property will fund the $100,000 trust. 80% of interest will go to the scholarship, and 20% will go back into the trust to grow the corpus.
As to why he decided on MVMF for his family scholarship, he said, "this (MVMF) is where it's at-they have helped me a lot." The Schwartz family established a scholarship for students from their church in Worthington previously, and now extend their philanthropy to MVMF.
Dr. Schwartz said, "The veterinary profession has been good to me and I would like to share my good fortune with young people."
The MVMF board and staff extends a sincere thank you to the Schwartz family for their leadership in philanthropy for the veterinary profession.
If you are interested in learning more about planned giving, please contact the MVMF, (651) 645-7533 or email info@mvmfcares.org
Nona Nesseth
Nona Nesseth is a territory manager with Boehringer Ingelheim Vetmedica Inc. Her career in the animal health industry has spanned 16 years and includes experience with Virbac, Pharmacia, Pfizer Animal Health, and Boehringer Ingelheim. She is in the recently completed certification to be a Certified Field Trainer and is working to enhance her facilitation and workshop skills. Nona has been involved with MPMN (Veterinary Practice Management Network) since 2001 and facilitates two chapters.
Nona is deeply involved with MVMF, serving as the Development Committee Chair, Shoot for the Future Chair and the Scholarship Committee Chair. "I have been so richly rewarded working in the animal health industry that I feel compelled to give back. The veterinary community includes incredibly talented, intelligent, compassionate and hard-working people. I love using my talents to give back to this industry."
Nona writes, "I'm very proud of Shoot for the Future. When I first met with Dan Tjornehoj about the concept or organizing a clay shoot fundraiser in 2010, Dan told me to make the event fun and if we didn't make money the first year it was ok. I couldn't imagine putting in the work for an event and not turning a profit. We made almost $15,000 the first year and had 100 shooters! Now we have nearly 150 shooters and netted over $44,000 in 2014. THEN, I get to sit on the scholarship committee and see directly the effects of our hard work. Awarding scholarship money to such a talented group of veterinary students makes every volunteer hour worthwhile!"
"Giving back is important. I want my daughters to realize that when you have been blessed, you must pay it forward. Clara, CeCe and (MVMF Assistant Director) Kelly Andrew's daughter McKenna, are already MVMF volunteers!"
"They have held lemonade stands at the MVMF Golf Outing. I have gotten the whole family involved. My husband, Tom, and I hosted a Grand Gathering Wild Game dinner last November as a fundraiser for the MVMF."
"A real MVMF highlight...was being the "winner" of the MVMF silent auction item to sleep over at the Miracle of Birth Center. My daughters Clara and Celia thought it was better than a visit to Disney. We slept in the barn and they got to assist with several births that night. We slept in sleeping bags next to the cows and the goats. Our 'inkeepers' were amazing and though we got very little sleep, it is a memory that we will cherish for a long time."
When not working, Nona can be found working with her Weimaraner, Dodie, coaching girl's basketball, attending dance recitals and orchestra concerts or helping groom a horse for a horse show...anywhere her girl's active schedules lead her!
MVMA Member Spotlight: Dr. Dale Sorensen and The History of CVM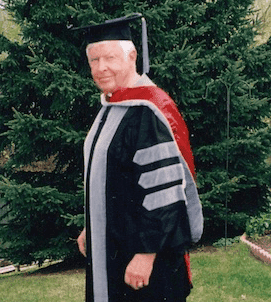 Spending time with Dr. Dale Sorensen, professor emeritus of the College of Veterinary Medicine at the University of Minnesota is invigorating. A true history buff and lifelong learner, he can talk on many topics knowledgably, and his entire life and career has been devoted to veterinary education.
Recently, Dr. Sorensen has been updating the history of the University of Minnesota's College of Veterinary Medicine, with his years as faculty and administration giving him firsthand knowledge, to be published by the Minnesota Veterinary Historical Museum.
As Dr. John Fetrow, Professor of Dairy Medicine said during an informative tour of the University of Minnesota CVM's Dairy Education Center, a facility within and in partnership with the Davis Family Dairies in New Sweden Township, "They built the school around him." His interest in Dairy goes back to his childhood, and as his career grew, as Paul Maravelas, curator of the Museum, remarked, "He was the go-to guy for cows."
Dr. Cal Jessen, CVM Professor Emeritus, said "Sorensen's expertise was in large animal production animals, including beef, cattle and swine, and veterinarians around the state called on him to assist with difficult diagnostic cases. He was adept at identifying problems such as plant poisonings and stray voltage. " Sorensen very much enjoyed traveling the state consulting on those cases.
Dr. Sorensen grew up on a dairy farm in Centuria, Wisconsin, and has three children and seven grandchildren with his late wife Betty. Her Rosemaling crafts and family pictures are evident throughout Dr. Sorensen's lovely apartment.
In 2005 he received the 2005 Alumni Recognition Award from his alma mater, Kansas State University, during the AVMA convention in Minneapolis. Sorensen earned his DVM at K-State in 1946 while serving as private first class in the U.S. Army. He received a master's degree from the University of Wisconsin in 1950, and a Ph.D. in microbiology and minor in pathology in 1953. In 1953, he joined the University of Minnesota College of Veterinary Medicine, became a full professor in 1959, was acting dean in 1972, then associate dean for academic affairs from 1980-87, and headed the search committee for the current dean, Dr. Trevor Ames.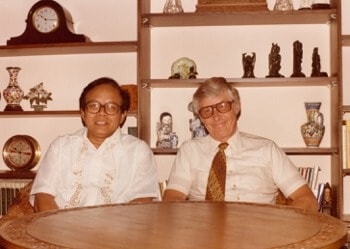 Dr. Sorensen consulted internationally during his entire career, starting in 1946-47, when he supervised the United Nations Relief and Rehabilitation Administration's animal health programs for horses and cattle being shipped to Europe, their numbers being decimated during World War II. He traveled to Cuba in 1979, and Taiwan with his family, where he spent 8 years consulting with a swine farm, forming a long term friendship with Dr. Wu, the owner, and family.