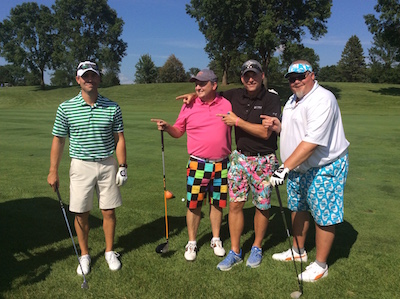 The MVMF's mission is powered by those who participate in, sponsor, and contribute to our annual fundraisers. From golf, to sporting clays, to wine, to winning big in our raffles, supporting the future of veterinary medicine has never been more fun! Save the date for upcoming opportunities to see your friends, family, and colleagues while helping to raise funds for the MVMF.
Upcoming Events
Golf Classic –This year we are returning to a golfer favorite, the Refuge Golf Club in Oak Grove, MN on June 27, 2019. Golfers are in for a treat at this Top 10 course in MN! Combine two passions— amateur golf and support for the Minnesota Veterinary Medical Foundation—in one fun-filled day. Bring some friends, colleagues, or former classmates and tee-up for this exciting tournament. Last year registration filled up, so register early!
Shoot for the Future Clay Shoot – If you are interested in a relaxed day of outdoor fun, join us on September 19, 2019 at the beautiful Wild Marsh Sporting Clays in Clear Lake, MN. All levels of participants are welcome! After the Shoot, enjoy dinner, a huge raffle, and fabulous live auction prizes! It is a sporting good time!
Silent Auction–Each year the MVMF holds a Silent Auction, Wine Pull, and $200 Drawing Club at the MVMA Annual Meeting. The MVMA Annual Meeting is February 15-17, 2018 at the Mayo Civic Center in Rochester, MN. Our Committee strives to outdo themselves each year with wonderful items including vacations, unique vet med opportunities, sports memorabilia, and home goods. The $200 Drawing Club includes your chance to win big ticket items. Come try your luck or find a treasure, all while supporting the MVMF!