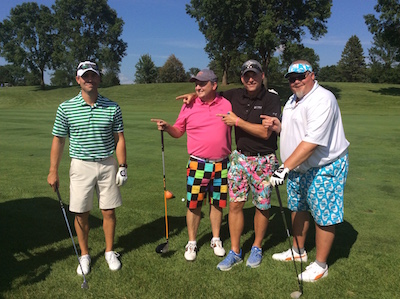 The MVMF hosts several fundraisers annually. The Golf Classic, Shoot For the Future Clay Shoot, a silent auction at the MVMA Annual Meeting, as well as other events each year. Each event is well attended, fun, and all proceeds go to support the MVMF. Don't miss these opportunities to see your friends, family and colleagues while helping to raise funds for the MVMF!
Future Events
Golf Classic –Held this year at the Oak Glen Golf Course in Stillwater, Minnesota on July 27, 2017, it is the perfect opportunity to combine two passions— amateur golf and support for the Minnesota Veterinary Medical Foundation—in one fun-filled day. Anyone with a love of animals and desire to support the veterinary profession in Minnesota, veterinarians, their families, company representatives, and college faculty are invited to tee-up for this exciting event.
Shoot for the Future Clay Shoot – Join us for a fun afternoon of sporting clay shooting at the beautiful Wild Marsh Sporting Clays in Clear Lake, Minnesota on September 28, 2017.
Bring your guns and be ready for a great day of shooting followed by a relaxing dinner. All level of shooters are welcome and guaranteed a sporting good time. Last year we filled up fast so register early!
Silent Auction at the MVMA Annual Meeting n February 15-17, 2018 at the Mayo Civic Center in Rochester, MN– Every year we receive wonderful items, vacations, sports memorabilia and home goods to bid on during the MVMA Annual Meeting. Also at the convention, buy raffle tickets to win fabulous prizes such as a 42" t.v., iPad, and more. If you buy $200 worth of raffle tickets you will be part of the $200 Club! Come try your luck or find a treasure and support the MVMF!